CHINESE ASTROLOGY FOR 2020 (10)
Twelve Zodiac signs and love
During the course of 2020, the following signs will have good – or mixed – relationship luck:
MONKEY
DRAGON
OX
RABBIT
ROOSTER
In 2020, if you have Monkey, Dragon, or Ox anywhere in your chart, you might expect good relationship luck.
Since their love luck is improving, Dragons and Monkeys (day of birth) will have more relationship opportunities than other signs (for dating, engagement, or marriage). If you have Dragon or Monkey in your Month Pillar, this will beneficially affect your business relationships, promoting, networking, and bringing in more opportunities to meet helpful people.
When it comes to those who have Ox in their Day Pillar, their relationship luck is mixed and the overall happenings in their private life depend on whether or not they already have relationship issues. If they do, and if their chart shows that their "Partner Star" is clashing or harmed, they might go through conflicts and possible break-ups. On the other hand, many Oxen will enjoy happy times in their relationships and some might consider marriage in 2020.
Rabbits might find the sexual side of the relationship particularly important in 2020. However, since Rat year brings Punishment to Rabbits, they may be prone towards making some wrong calls when it comes to relationships and dating. Also, as they might become more interested in sexual experiments, they are advised to mind personal safety and protection.
Roosters are under influence of the Peach Blossom Star in 2020, which will make them more attractive and provide more opportunities to date, establish serious relationships, or get married. However, since Rosters' relationship luck is mixed due to the Destruction they have with Rat, it is very likely that things won't develop in accordance with their expectations. Accordingly, those with Rooster in their Day Pillar should count on a sudden turn of events in relationships and should be ready to deal with misunderstandings.
During the course of 2020, the following signs will experience relationship challenges:
HORSE
GOAT
RAT
If you have Horse, Goat, or Rat anywhere in your chart, you will experience more relationship challenges during the course of 2020. If you have Horse in your Day Pillar, you will find yourself to be more passionate, impatient, and impulsive, which will also affect your relationship. Since the overall development in your relationship is unpredictable, while some Horses' current relationships may go through crises in the Rat Year, some other Horses could suddenly engage in new and very intense liaisons.
For those who have Goat in their Day Pillar, relationships might become a source of disappointment – mostly because Goats have to learn important lessons about trust and setting boundaries. It is very likely that relationships might draw away their energy and time, giving them a sense of unease.
---
Browse https://altheachineseastrology.com to:
Read our Chinese Astrology articles and Chinese Astrology Ba Zi blog posts
Find out more about Chinese Astrology for 2020
Download a free copy of your "Chinese Astrology Guide for 2020" e-book
Schedule your Ba Zi Consultation
Calculate your Ba Zi Chinese astrology horoscope
Read more about your Chinese Zodiac sign's luck in the Metal Rat year of 2020
Download ''Living in Accordance with Seasons'' e-book, and other free PDFs
Order your copy of the limited hardcover edition of the awarded book "A Course in Chinese Astrology"
Schedule your real Chinese Astrology private lectures
And much more!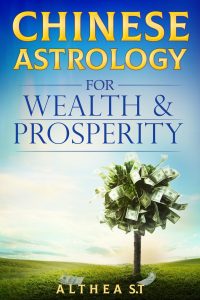 Reveal the wealth potentials of your Self and find which wealthiest people share the Self with you. Learn about ten ways to acquire wealth in Chinese Astrology, discover your wealth luck in the next few years – and more!
Available on Amazon Kindle and Smashwords.
Look for this and other Althea's books, to get invaluable insights and empower your life.
Get amazing coaching skills based on actual knowledge. Decode one's Life Path and understand their abilities and limitations. Offer tailor-made solutions and advise about the right timing. And much more! Four levels, intense studies, certification program available. Flexible timing, studying in small groups (2-5 people).
Achieve great wisdom about life. Learn how to interpret the Ba Zi chart and anticipate the future developments in one's life. Help them reach their greatest potentials and become their best Self! Case Studies tutorials and certification program (4 levels) available. Flexible timing, undivided attention.
https://altheachineseastrology.com/wp-content/uploads/2019/12/castle-505878_1920.jpg
1280
1920
althea
https://altheachineseastrology.com/wp-content/uploads/2018/05/chinese-astrology-logo.png
althea
2019-12-02 13:54:16
2021-11-22 16:49:24
CHINESE ASTROLOGY FOR 2020 (10): Twelve Zodiac signs and love