Chinese Astrology and Art in 2021
The following signs will do better academically and with the arts in 2021:
RAT
OX
HORSE
When it comes to those born under the days of the Rat, the Intelligence Star in their sign will help them with everything related to learning, studying, teaching, researching, writing etc. Rats might be also interested in mastering some new forms of knowledge and/or skills, earning a degree, finally writing that book etc. When it comes to Horses, they will try to make their life better with beauty and art, while Oxen will be very creative and eager to transform existing things and design something new.
Accordingly, 2021 will be an especially positive year for Rats engaged in education and Oxen and Horses dealing in art, design and fashion.
In order to boost their luck in these fields, Rats and Oxen should spend more time (work, design, read etc.) towards the East, Northeast (except NE1) and/or West.
Free 2021 pdfs (click on file to download)
For Feng Shui for 2021, follow the links

https://altheafengshui.com/feng-shui-2021

https://altheafengshui.com/flying-stars-2021

https://altheafengshui.com/annual-monthly-stars-2021

https://altheafengshui.com/feng-shui-health-2021

https://altheafengshui.com/feng-shui-romance-2021

https://altheafengshui.com/feng-shui-wealth-2021

 
Get amazing coaching skills based on actual knowledge. Decode one's Life Path and understand their abilities and limitations. Offer tailor-made solutions and advise about the right timing. And much more! Four levels, intense studies, certification program available. Flexible timing, studying in small groups (2-5 people).
Achieve great wisdom about life. Learn how to interpret the Ba Zi chart and anticipate the future developments in one's life. Help them reach their greatest potentials and become their best Self! Case Studies tutorials and certification program (4 levels) available. Flexible timing, undivided attention.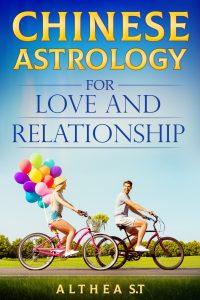 What do we really know about Love?
What does Chinese Astrology has to say about your Self and the ways it loves?
How about your Love Luck? 
Available on Amazon Kindle & Smashwords.
Look for this and other Althea's books on Amazon, to get invaluable insights and empower your life.
https://altheachineseastrology.com/wp-content/uploads/2020/12/graffiti-wall-1209761_1280.jpg
853
1280
althea
https://altheachineseastrology.com/wp-content/uploads/2018/05/chinese-astrology-logo.png
althea
2020-12-24 20:16:08
2020-12-21 18:54:46
Chinese Astrology and Art in 2021