Meet your space. Activate its potentials. Improve your life and business.
A Course in Real Feng Shui
The ultimate handbook for practitioners.
It's 340 award-winning pages contain everything you need to reap the best out of your residential and commercial property!
This book won the Mind-Body-Spirit Book Award in January 2018.
---
Improve your property and find the best ways to use it.
Refine your Feng Shui skills and gain trust of your clients.
Study and practice with fantastic tables and enjoy numerous illustrations.
Find everything you need for superior practice – in one book.
---
Watch the video
---
With this book, you can
Acquire genuine knowledge and trusted methods for property assessment
Activate the Flying Stars chart of your property
Master the nuances of the Eight Mansions – Ba Zhai method
Redesign the current layout or design a new one
Assess which location is best to place your bed/ desk/ furniture to promote success
Gain the know-how to adjust your sleep direction for better health and relationships
Find the best work direction to improve efficiency
Activate the personal Nobleman or Peach Blossom Star
Improve your Home/Office environment
Master the basics of Date Selection

Gain a lifetime Feng Shui adviser – and much more!
---
Whether you are a beginner or an expert –
this book is your perfect Feng Shui handbook!
---
Althea has helped many business owners. 
Her clients tell her their businesses would fail without her insight.
---
Find out what others have to say about it
---
I saved almost $1950 by buying this book
''I am always on the lookout for new Feng Shui books to add to my collection. I must say, I'm quite happy and impressed with this book.
It is so comprehensive, and it reveals many of the secrets that I learned from taking expensive live Feng Shui classes that I had paid big bucks for in the past few years. Moreover, this book is written so methodically that would make it easy for a beginner to follow and learn from.
To me, this book has far greater value than the more expensive books from other authors that I have bought previously based on its contents and the level of knowledge it imparts to its readers.  As the matter of fact, I almost signed up for an expensive online class offered by a famous classical Feng Shui master and I 'm glad I didn't because this book covers exactly the same topics which that online class offered.
I saved almost $1950 by buying this book instead. If I am to teach a Feng Shui class in the future, I will definitely use this as my class textbook.''
M.S.K.
(Amazon buyer)
---
The book that keeps giving
''… To point out, this is really a big book… loaded with information… For this reason, it definitely deserves to find its place in anyone's Feng Shui library…
The author introduces the subject gradually, covering Feng Shui basics and the energy of the ground and surroundings. Then, she goes deeply into the Feng Shui practice…. Where this books certainly stands out are the chapters about Feng Shui Eight Mansions method (there was the info I could not find in any other book – or even course) and Feng Shui Flying Stars. In addition, the author provided 81 Stars combination in the appendices, so the beginners will also find many shortcuts to a great practice here.
When it comes to tables… whatever table you might need for the practice, this book has it. … For example, it contains Flying Stars charts for periods 8 and 9, tables for annual charts; tables for Feng Shui activations, Castle Gate tables for periods 8 and 9… To emphasize the chapters on Annual Flying Stars and Feng Shui activations, which I found to be particularly helpful. In addition, there is a Date Selection calendar at the end…
At some points, while I was reading it, and this lasted for a couple of months, I had an impression that I read more books than one. In my humble opinion, this is definitely a book for practitioners, because the beginners will need a while in order to digest this Feng Shui feast..
…It is important to mention that A Course in Real Feng Shui is the book written by a serious practitioner. If I would have to compare it to other books I read,  Skinner's Flying Stars, Liotta's Feng Shui for Wealth, or Eva Wong's Feng Shui for Practitioners would be some close matches. To clarify, this is the book for practitioners – or at least for those who want to become ones. Since you'll find everything you need for your practice here, I consider it as a true gem. Of course, I recommend it warmly.''
Branka S.
---
We shape our buildings, thereafter they shape us
"The space around us and the way it is structured and arranged influences the way in which we think and feel. Winston Churchill famously said, "We shape our buildings, thereafter they shape us". These wise words encapsulate part of what feng shui is all about. This practical manual introduces feng shui as an ancient and proven art to modern-day readers and shows how peoples' lives and fortunes can be transformed in a positive way.
The contents are divided into sections, the book reveals how to make changes that will affect your potential positively, resulting in good fortune for you and your family.
Hence, it is not only aimed at beginners who might be unfamiliar with feng shui terminology, but also at people who practice feng shui in their daily lives and may also enjoy discovering a different approach. Definitely a must have book. "
Simone B.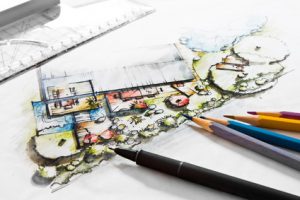 A good way to find out about your property's Feng Shui is to consult or hire a personal Feng Shui adviser to review it and offer customized solutions and packages.
We provide consultations for your Residential and Business property and also have special, tailor-made packages for Property Developers and Investors.
We also offer Annual Feng Shui consultations, with tailor-made property activation dates!