CHINESE ASTROLOGY FOR 2020 (2)
Metal Rat year
When it comes to 2020, it's a Metal Rat Year. Since Rat has a good relationship with Monkey, Ox, and Dragon, these three signs will be blessed with good relationship luck. If you have one of these signs anywhere in your Ba Zi chart, then you should expect improvements in relationships in general. The aspect of your life will be most influenced depends on the pillar(s) these signs occupy.
To learn more about the Four Pillars of Ba Zi Chinese astrology, follow the link.
Regarding the signs that don't get along well with Rat, their relationship luck will be bumpier. The first to mention is Horse because this sign clashes with Rat (equals to opposition in Western astrology). Thus, if you were born under the Day of Horse, 2020 will bring you more relationship challenges. Knowing that some kind of a change is inevitable, you can either play it cool and wait for issues to emerge – or you can start planning how to initiate the changes in order to maintain control. In professional consultations, we always advise our clients to not only embrace the necessity of change, but also to plan and initiate the changes accordingly. One example of such changes is accepting a position which requires a lot travel…
Good relationship luck in 2020:
Monkey
Dragon
Goat
Ox
Rooster
Relationship challenges in 2020:
Horse
Dog
Goat
Rabbit
Rooster
Good wealth luck in 2020:
Ox
Rat
Rabbit
Goat
Monkey
Good for travel in 2020:
Tiger
Good for academics in 2020:
Pig
Snake
Bad for Health in 2020:
Pig
Note:
In order to get the most out of these Chinese astrology posts, you have to calculate your Ba Zi chart and find the Zodiac sign of the day of your birth. Next, look for the Zodiac signs in the other three pillars as these influence your career (month), relationships in general (year), and children (hour).
To find out more about the meaning of each pillar, read the blog or refer to the Kindle book Chinese Astrology for Beginners (www.geni.us/AstroBeginners).
---
Browse https://altheachineseastrology.com to:
Read our Chinese Astrology articles and Chinese Astrology Ba Zi blog posts
Find out more about Chinese Astrology for 2020
Download a free copy of your "Chinese Astrology Guide for 2020" e-book
Schedule your Ba Zi Consultation
Calculate your Ba Zi Chinese astrology horoscope
Read more about your Chinese Zodiac sign's luck in the Metal Rat year of 2020
Download ''Living in Accordance with Seasons'' e-book, and other free PDFs
Order your copy of the limited hardcover edition of the awarded book "A Course in Chinese Astrology"
Schedule your real Chinese Astrology private lectures
And much more!
Schedule your Chinese Astrology Ba Zi consultation with Althea, because in life, there is so much to learn, as there are so many paths to walk. Understand the potentials and limitations of your Destiny and find the ways to grow and improve your Luck. Understand the importance of right timing and make informed decisions – to tune in with the best flow of your life!
We offer Life, Business and Annual Ba Zi Consultation.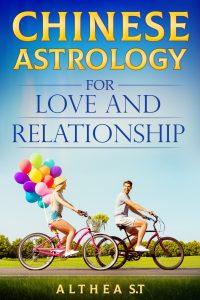 What do we really know about Love?
What does Chinese Astrology has to say about your Self and the ways it loves?
How about your Love Luck? 
Available on Amazon Kindle & Smashwords.
Look for this and other Althea's books on Amazon, to get invaluable insights and empower your life.
https://altheachineseastrology.com/wp-content/uploads/2019/11/Chinese-Astrology-CHART-for-2020.jpg
3508
2480
althea
https://altheachineseastrology.com/wp-content/uploads/2018/05/chinese-astrology-logo.png
althea
2019-11-17 13:15:08
2021-11-22 16:47:48
CHINESE ASTROLOGY FOR 2020 (2): Metal Rat year