Chinese Astrology for Wealth in 2021
"The rich man plans for tomorrow. The poor man for today" ~ Chinese proverb
Each year has a distinctive influence on the wealth luck of the twelve Zodiac signs. While certain years bring new opportunities, supporting business growth and expansion, at other times the best we could do is just be satisfied with what we have and enjoy life as it is.
The following signs will be blessed with good wealth luck in 2021:
SNAKE
TIGER
MONKEY
DRAGON
ROOSTER
Snakes will be popular in 2021, and they can benefit from networking and profiting on their image and social skills.
When it comes to Tigers, their wealth will come from their enthusiasm, initiative and exchanging help with others. The Tai Yang Star in their sign will work particularly well for male Tigers and those in predominantly male industries (cars, tools etc.), providing them with more opportunities to increase their wealth.
Monkeys will be blessed with good wealth luck (dumb luck (lottery, gambling etc.) will be particularly strong); hence they won't lack opportunities to advance in their careers and business (this is especially valid for those with the Monkey in the month column of their Ba Zi Chinese astrology chart).
When it comes to Dragons, females will do better than males, while the most prosperous will be Fire Dragons and those in predominantly female-orientated industries. Furthermore, the Stars in this sign provide particular support to Dragon entrepreneurs – who might come up with ideas that can increase their wealth.
The overall success of Roosters will depend on their ability to lead and make bold moves. They can also benefit from networking, marketing, sales  and all forms of joining forces with others.
Oxen wealth luck is not especially auspicious in 2021, but it is worth mentioning that they might enhance their wealth luck by employing their own creativity and artistic sense; of all Oxen, those engaged in art and design will have better financial prospects in 2021.
Free 2021 pdfs (click on file to download)
For Feng Shui for 2021, follow the links

https://altheafengshui.com/feng-shui-2021

https://altheafengshui.com/flying-stars-2021

https://altheafengshui.com/annual-monthly-stars-2021

https://altheafengshui.com/feng-shui-health-2021

https://altheafengshui.com/feng-shui-romance-2021

https://altheafengshui.com/feng-shui-wealth-2021

 
Schedule your Chinese Astrology Ba Zi consultation with Althea, because in life, there is so much to learn, as there are so many paths to walk. Understand the potentials and limitations of your Destiny and find the ways to grow and improve your Luck. Understand the importance of right timing and make informed decisions – to tune in with the best flow of your life!
We offer Life, Business and Annual Ba Zi Consultation.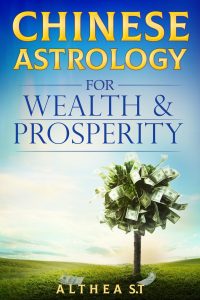 Reveal the wealth potentials of your Self and find which wealthiest people share the Self with you. Learn about ten ways to acquire wealth in Chinese Astrology, discover your wealth luck in the next few years – and more!
Available on Amazon Kindle and Smashwords.
Look for this and other Althea's books, to get invaluable insights and empower your life.
Attain amazing coaching skills based on actual knowledge. Decode one's Life Path and understand their abilities and limitations. Offer tailor-made solutions and advise about the right timing. And much more! Four levels, intense studies, certification program available. Flexible timing, studying in small groups (2-5 people).
Achieve great wisdom about life. Learn how to interpret the Ba Zi chart and anticipate the future developments in one's life. Help them reach their greatest potentials and become their best Self! Case Studies tutorials and certification program (4 levels) available. Flexible timing, undivided attention.
https://altheachineseastrology.com/wp-content/uploads/2020/12/IMG_7597-scaled.jpg
1707
2560
althea
https://altheachineseastrology.com/wp-content/uploads/2018/05/chinese-astrology-logo.png
althea
2021-01-01 18:07:15
2020-12-21 18:54:01
Chinese Astrology for Wealth in 2021