Schedule your Chinese Astrology Ba Zi consultation with Althea, because in life, there is so much to learn, as there are so many paths to walk.
Understand the potentials and limitations of your Destiny and find the ways to grow and improve your Luck. Understand the importance of right timing and make informed decisions – to tune in with the best flow of your life!
We offer Life, Business and Annual Ba Zi Consultation.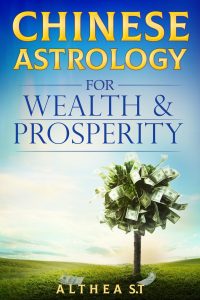 Reveal the wealth potentials of your Self and find which wealthiest people share the Self with you. Learn about ten ways to acquire wealth in Chinese Astrology, discover your wealth luck in the next few years – and more!
Available on Amazon Kindle and Smashwords.
Look for this and other Althea's books, to get invaluable insights and empower your life.
Master real Feng Shui, in theory and practice. Learn the best ways to assess, improve and activate the properties. Clear your doubts,
create tailor-made solutions
and get actual, measurable results. Four levels, intense studies, certification program available. Flexible timing, studying in small groups (2-5 people).
We provide one-to-one Feng Shui studies and tutoring. Get all necessary explanations and achieve excellence in your Feng Shui practice. Master trusted formulas for assessing and activating properties and gain confidence in consulting with a wide range of clients!Flexible timing, undivided attention. Permanent training and certification program available.
https://altheachineseastrology.com/wp-content/uploads/2020/12/beach-4388135_1280.jpg
1280
960
althea
https://altheachineseastrology.com/wp-content/uploads/2018/05/chinese-astrology-logo.png
althea
2021-01-13 18:38:03
2020-12-21 18:52:44
Chinese Zodiac Signs and Stability in 2021