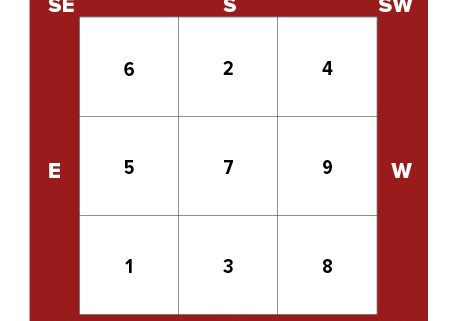 Feng Shui for 2020 (1)
Flying Star chart 2020 
Every year, different energies enter the nine locations of your property, altering the existing Feng Shui set-up.
In such a way, while certain locations become good or better than they were, other areas become bad or worse.
With annual Feng Shui insight, you can plan how to use your space and get control over your life and/or business. The key to getting the most out of a certain year is to use auspicious locations and avoid activating those which are bad.
For example, if your health is sensitive or if you're in recovery, make sure to avoid sleeping or spending long hours in South or East.
If you desire to advance in your studies, then place your desk in Southeast 3 or Northwest 3.
If you want to add some romance or improve your social life, Southeast and Southwest are good choices.
To improve wealth luck, make sure to activate Northwest, Northeast 1, or Southwest 1 (you can also activate all three).
However, if you have financial problems, do not renovate East or South because everything in your life and/or business can suddenly go from average to bad – or from bad to worse.
---
Browse https://altheafengshui.com to:
Read our Feng Shui articles and Feng Shui blog posts
Find out more about Feng Shui for 2020
Download a free copy of your "Feng Shui Guide for 2020" e-book
Schedule your Feng Shui Consultation
Calculate the Flying Star chart of your property
Calculate your Ba Zi Chinese astrology horoscope
Read more about your Chinese Zodiac sign's luck in the Rat year
Download ''Living in Accordance with Seasons'' e-book, and other free PDFs
Order your copy of the limited hardcover edition of the awarded book "A Course in Real Feng Shui"
Schedule your real Feng Shui private lectures
Consult "The Book of Changes", Yi Jing, online…
And much more!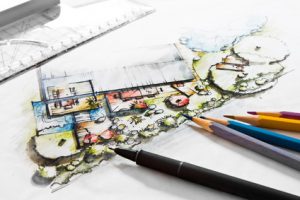 A good way to find out about your property's Feng Shui is to consult or hire a personal Feng Shui adviser to review it and offer customized solutions and packages.
We provide consultations for your Residential and Business property and also have special, tailor-made packages for Property Developers and Investors.
We also offer Annual Feng Shui consultations, with tailor-made property activation dates!
 You don't have to identify what it is that's creating the problem. Just learn the most effective space clearing techniques and start changing the energy. Clear your home, calm your soul and boost happiness.
Available on Amazon Kindle and Smashwords.
Look for this and other Althea's books, to get invaluable insights and empower your life. 
https://altheachineseastrology.com/wp-content/uploads/2019/11/Flying-Star-chart-for-2020-plain-just-Stars.jpg
418
458
althea
https://altheachineseastrology.com/wp-content/uploads/2018/05/chinese-astrology-logo.png
althea
2019-12-14 13:56:29
2021-11-22 16:50:31
Feng Shui for 2020 (1): Flying Star chart 2020