Feng Shui for 2020 (13)
Flying Stars for Sleep
It's essential to find a good location to sleep because sleep directly affects one's energy levels, mood, and health in general. A good bedroom location can promote not only sleep but also health and general wellbeing, just as the inauspicious locations could contribute to sleeping issues.
The best locations for sleeping in 2020 are:
NORTHWEST
NORTHEAST
SOUTHEAST
WEST
SOUTHWEST
Place your bed in Northwest of your home or bedroom to improve your sleep and better your health; if you want to sleep well and achieve overall balance, then go for Southeast.
Northeast is another good location for sleep in 2020 and it also works well for men's love lives.
West is suitable for those who feel tired and need more energy and enthusiasm, while Southwest is good both for sleep and romance.
---
Browse https://altheafengshui.com to:
Read our Feng Shui articles and Feng Shui blog posts
Find out more about Feng Shui for 2020
Download a free copy of your "Feng Shui Guide for 2020" e-book
Schedule your Feng Shui Consultation
Calculate the Flying Star chart of your property
Calculate your Ba Zi Chinese astrology horoscope
Read more about your Chinese Zodiac sign's luck in the Rat year
Download ''Living in Accordance with Seasons'' e-book, and other free PDFs
Order your copy of the limited hardcover edition of the awarded book "A Course in Real Feng Shui"
Schedule your real Feng Shui private lectures
Consult "The Book of Changes", Yi Jing, online…
And much more!
Schedule your Chinese Astrology Ba Zi consultation with Althea, because in life, there is so much to learn, as there are so many paths to walk. Understand the potentials and limitations of your Destiny and find the ways to grow and improve your Luck. Understand the importance of right timing and make informed decisions – to tune in with the best flow of your life!
We offer Life, Business and Annual Ba Zi Consultation.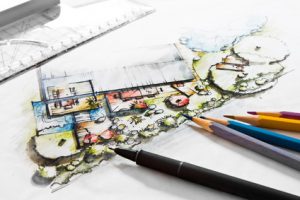 A good way to find out about your property's Feng Shui is to consult or hire a personal Feng Shui adviser to review it and offer customized solutions and packages.
We provide consultations for your Residential and Business property and also have special, tailor-made packages for Property Developers and Investors.
We also offer Annual Feng Shui consultations, with tailor-made property activation dates!
Learn more about your bodily constitution, understand the influence of the ruling meridian on your body and mind, find the best ways to improve your health…
Available on Amazon Kindle and Smashwords
Look for this and other Althea's books on Amazon, to get invaluable insights and empower your life.
It's 340 award-winning pages of everything you need to reap the best out of your residential and commercial property! 
Get this book, to:
Improve your property and find the best ways to use it.

Refine your Feng Shui skills and gain trust of your clients.

Study and practice with fantastic tables and enjoy numerous illustrations.

Find everything you need for superior practice – in one book!
Award-Winner, Body-Mind-Spirit Book Awards of Europe, January 2018!
Learn why destiny and luck play a major part in your life and how you can influence those changes and make better decisions.
Backed by comprehensive case studies, charts, and tables you won't find anywhere else, this book will unravel the secrets behind the very hour and time of your birth.
With each turn of the page you'll learn something new about yourself and those around you; and you'll be given the tools to create the kind of happiness, success, and wealth you truly desire.
Award-Winner Finalist, Body-Mind-Spirit Book Awards of Europe, January 2018!
https://altheachineseastrology.com/wp-content/uploads/2020/01/baby-784609_1920.jpg
1275
1920
althea
https://altheachineseastrology.com/wp-content/uploads/2018/05/chinese-astrology-logo.png
althea
2020-01-07 13:45:49
2020-12-21 18:57:41
Feng Shui for 2020 (13): Flying Stars for Sleep