Feng Shui for 2020 (9)
Pressure and Stress Locations
Pressure has always been a part of our daily lives, as it always accompanies ambitions and one's desire to succeed. It's natural that we want to grow and be better, but all growth is also a kind of frustration (as with every change of state). However, sometimes life brings  too much with it and, if we want to turn off our minds and relax, we should avoid certain locations that bring pressure and stress.
If you don't want to feel cornered and/or stressed out, then you should avoid these locations in 2020:
EAST
WEST
SOUTHWEST
West and Southwest are the areas that bring constant annoyance and pressure, though not on a big scale like East. While Southwest brings numerous small but frequent interpersonal annoyances, West might be overwhelming for individuals who already have too much on their plate.
East is the area which brings complications, setbacks, and losses in 2020 due to the influence of Star 5. If you are not able to handle stress and pressure (or if you already suffer from sleeping issues), you should definitely avoid sleeping in East. To pacify this energy, place a salt-water cure in the East locations of your property (this should be done before the beginning of February 2020: look for the right dates on our blog).
---
Browse https://altheafengshui.com to:
Read our Feng Shui articles and Feng Shui blog posts
Find out more about Feng Shui for 2020
Download a free copy of your "Feng Shui Guide for 2020" e-book
Schedule your Feng Shui Consultation
Calculate the Flying Star chart of your property
Calculate your Ba Zi Chinese astrology horoscope
Read more about your Chinese Zodiac sign's luck in the Rat year
Download ''Living in Accordance with Seasons'' e-book, and other free PDFs
Order your copy of the limited hardcover edition of the awarded book "A Course in Real Feng Shui"
Schedule your real Feng Shui private lectures
Consult "The Book of Changes", Yi Jing, online…
And much more!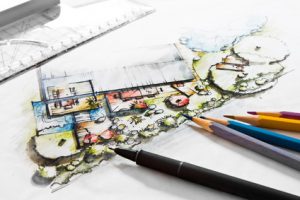 A good way to find out about your property's Feng Shui is to consult or hire a personal Feng Shui adviser to review it and offer customized solutions and packages.
We provide consultations for your Residential and Business property and also have special, tailor-made packages for Property Developers and Investors.
We also offer Annual Feng Shui consultations, with tailor-made property activation dates!
Master real Feng Shui, in theory and practice. Learn the best ways to assess, improve and activate the properties. Clear your doubts,
create tailor-made solutions
and get actual, measurable results. Four levels, intense studies, certification program available. Flexible timing, studying in small groups (2-5 people).
We provide one-to-one Feng Shui studies and tutoring. Get all necessary explanations and achieve excellence in your Feng Shui practice. Master trusted formulas for assessing and activating properties and gain confidence in consulting with a wide range of clients!Flexible timing, undivided attention. Permanent training and certification program available.
 You don't have to identify what it is that's creating the problem. Just learn the most effective space clearing techniques and start changing the energy. Clear your home, calm your soul and boost happiness.
Available on Amazon Kindle and Smashwords.
Look for this and other Althea's books, to get invaluable insights and empower your life. 
https://altheachineseastrology.com/wp-content/uploads/2019/12/confused-2681507_1920.jpg
1281
1920
althea
https://altheachineseastrology.com/wp-content/uploads/2018/05/chinese-astrology-logo.png
althea
2019-12-30 13:20:05
2020-12-21 18:58:03
Feng Shui for 2020 (9): Pressure and Stress Locations