Early life
To see whether the destiny is supported with luck, and to understand the lessons certain individual will have, we always assess both one's natal Four Pillars chart and the Luck Pillars. We typically analyze the Luck Pillars to understand one's current and upcoming luck, but we can also assess previous Luck Pillars – to read one's past. In such a way, person's first Luck Pillars show specifics of one's early life and the overall atmosphere in childhood.
The first two 10-year Luck Pillars show the strong presence of the Fire Element. Hence, the early years spent in the modest house of Austrian remote village of Thal, were not easy (remember: Fire in his chart represents pressure and stress). The lack of resources is also a sort of pressure, and not many individuals are able to overcome the influence of harsh environment and rise, despite the challenges. 
Luckily, Arnold Schwarzenegger found bodybuilding, which was the best way for him to use the potentials of his chart! He worked hard, he trained his muscles relentlessly, he was disciplined, and he was persistent. Then, at the age of 20, he won the title of the Mister Universe, which is important achievement that opened a door to his success …
Career and Wealth
Schwarzenegger's chart is not only an example of the success accomplished by hard work, it is also an example of timely Luck Pillars (to some people good luck comes too late to enable them a great success). Regarding the wealth potentials of his chart, we can find his Wealth Star positioned in the Hour Pillar (indicating prosperity that comes in old age, because the Hour Pillar typically represents the time after turning 63). Nevertheless, the appearance might be deceiving and this is true with his chart. For example, his Wealth Star is not the only source of wealth in his chart, because the Wealth Element is also produced by the interaction between the Year and Month Branch (although Wood is dead in summer – his birth season – it is still there and it obviously works well for him). Therefore, wealth potentials do exist in his chart, and the greatness of his success was only the matter of the good Luck Pillars. Luckily, this man got it all in his lifetime!
He entered the Wood Luck (which represents Wealth for him) in 1974, which was the exact time when his career took off. This is when he grabbed the public attention for the first time, charming us with his strong Austrian accent and the body of steel (''Conan the barbarian'' was filmed in this Luck Cycle). His career and wealth were firmly established in the following Luck Pillar (also Wealth: 1984-1993), when he filmed ''The Terminator'' (which got three sequels), ''Commando'', ''The Running Man'', ''Predator'', ''Total Recall'', etc.
Love life
Terminator's chart shows very clearly his love life. He married in the exact Luck Pillar of Mao – Rabbit, which does not only combine with his Spouse Palace (Six Combinations), but Yi of Mao also represents the wife of Geng Metal (Geng and Yi unite)!
Unfortunately, by the end of the Wood Luck (marriage for him), he firstly separated and then divorced from his wife (DW Star which represents a man's wife appears only in Luck Cycles).
But, how about OTHER women in his life?
In order to understand this, we have to get back to his chart, where we can find IW Star in the Hour Pillar; This Stars does not represent only entrepreneurship, revenues and business, but also girlfriends and lovers – for males. Actually, this Wealth Star is specific for one thing: it represents young women, and being the Traveling Star, it points out to his affinity towards the women of the foreign origin!
There is also a hidden 7K Star inside the Yin – Tiger (main Qi is IW-lover) in the Hour Pillar, which represents children to males (boys!). In addition, what we could read in media is that he has a son with another woman, which was conceived while he was married to Maria Shriver.
New Luck Pillar
Few years ago, Mr. Schwarzenegger entered a new Luck Pillar.
This change brought a switch of the season (no more Wood Luck); hence, it triggered numerous changes in his life.
It came with Clash to the Month Pillar, which indicates a change of career (this coincides with his political engagement).
A new Luck Pillar also brought the Punishment to the Day Branch – his Spouse palace, and this was most probably related to his divorce (at this point, this represents a reasonable doubt for assuming that he must have been punished financially).
There is also a combination with the Hour Pillar – and younger women Element – which denotes affairs, maybe even more children. Secret relationships are quite likely with such a constellation, especially because this is commonly referred to as ''secret combination''.
What makes a successful life?
We all do differ, as the ways we acquire success…
Arnold Schwarzenegger's chart is an example of a person who has chosen not to pass a great success and who completely committed to his career and pursuing own ambitions. It is also an example of the special chart, which requires that one ''follows the Officer'', i.e. the strongest Qi in the chart, in order to achieve great success!
Terminator's chart also shows a great cooperation between Geng Metal and Ding Fire, known for their codependency. For the Four Pillars Chinese astrology students, here is one more piece of information: Mr. Terminator's chart also has an arbitrating Element, Earth, present in the chart. This is important because it protects self from Fire and arbitrates between strong Fire and weak Metal, setting everything for one's great success.
Hasta la vista, Chinese astrology lovers!  
I will be back … with more Case Studies!
*To Calculate your Ba Zi chart (free), just click here.
*To read the posts form the series 'Tesla and Elon Musk: Their Secret Connection', just click on the posts below: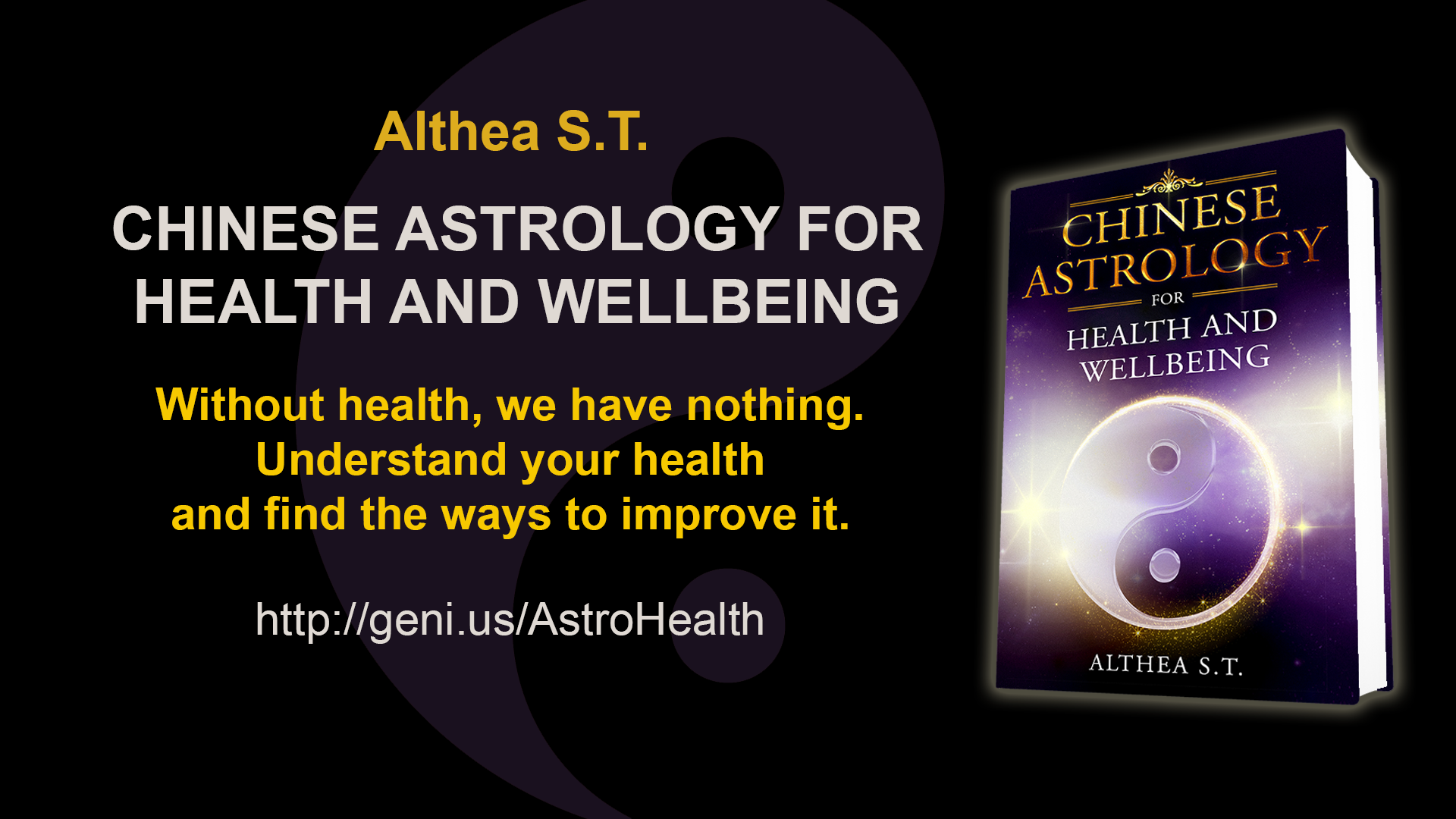 Chinese astrology articles & posts you could read
Schedule your Chinese Astrology Ba Zi consultation with Althea, because in life, there is so much to learn, as there are so many paths to walk. Understand the potentials and limitations of your Destiny and find the ways to grow and improve your Luck. Understand the importance of right timing and make informed decisions – to tune in with the best flow of your life!
We offer Life, Business and Annual Ba Zi Consultation.
Get amazing coaching skills based on actual knowledge. Decode one's Life Path and understand their abilities and limitations. Offer tailor-made solutions and advise about the right timing. And much more! Four levels, intense studies, certification program available. Flexible timing, studying in small groups (2-5 people).
Achieve great wisdom about life. Learn how to interpret the Ba Zi chart and anticipate the future developments in one's life. Help them reach their greatest potentials and become their best Self! Case Studies tutorials and certification program (4 levels) available. Flexible timing, undivided attention.
Price:
50$
Shipping: 
25$
Approximate delivery time:
1-2 weeks for Europe; 2-4 weeks for the rest of the world
https://altheachineseastrology.com/wp-content/uploads/2018/12/IMG_2673-e1544220423162.jpg
3088
2320
althea
https://altheachineseastrology.com/wp-content/uploads/2018/05/chinese-astrology-logo.png
althea
2018-12-22 22:23:42
2021-11-22 16:43:43
Case Study - Terminator (part three)